I was always that girl that said "yeah..I like babies as long as I can give them back to their parents." I did plan on having kids...some day...just didn't plan on having one when I was 22. When Trent and I found out that we were pregnant, we both felt all kinds of emotions. At first, I remember thinking, "Is this for real? Am I ready for this?" ...the fact of the matter was whether we were ready or not, we were going to be parents. After we finally came to terms with that, we started telling people. We didn't allow them to have any other reaction except happiness because we were happy.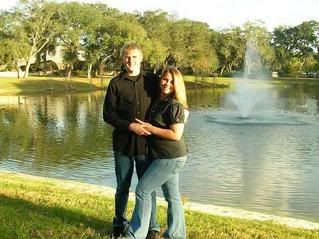 I was not a good pregnant person. I didn't like being fat and tired all the time. I was robbed of trowing up, all I ever did was dry heave, sometime for an hour or so. I had terrible terrible acid reflux too. No specific craving that I can remember, but when I did crave something I wanted it and needed it RIGHT NOW! Even though I don't miss being pregnant, I really really love what you get out of it...a sweet little baby.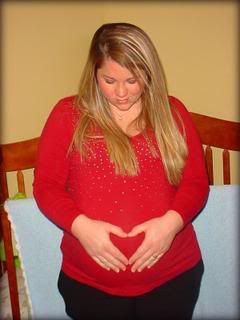 Zakery Taylor Murphy...boy, born August 28, 2007 , 8lbs 4oz and just so precious. I came up with the name and Trent went along with it with little resistance. At first we thought we were going to name him with a "T" name because that is what his mother wanted. She has a Trent and a Trevor...her BFF has a Teyha, Tyler, and Timothy...so she said that I had to name our baby with a name that starts with "T". Not good to tell a hormonal, pregnant lady that she HAS to do something that she really doesn't HAVE to do. After looking through all the "T" names in baby books and not really seeing my baby as any of them, I came up with Zachary for a boy and Zoe for a girl..Ive always loved that name since Saved By the Bell. I told Trent and of course he said "That is not a "T" name." I told him that his middle name would be Taylor and if his mother wanted to call him that, she could. He still didn't got with it because he was worried about what his mother thought.
Since I knew that the baby was a boy from the beginning (there hasn't been a "born" girl Murphy since the 30's) I just kept calling him Zachary..and it caught on. Trent still felt kind of left out so I let him choose the spelling...and that is where we got Zakery.
Well..it was the night before my due date and I was MORE THAN READY to have that baby out of me. We decided to go and get some wings (of course following the spicy food wise tail) hoping it would send me into labor. The next morning, Trent's birthday the 26th, I woke up having contractions. I laid there in bed and didnt say anything for a while because I wanted to make sure it wasn't all in my head. I woke Trent up and said "I think were going to have a baby today, the wings worked." Of course he got all excited because he thought he was getting a baby for his birthday. I waited all day and let the contractions get closer and closer together. We finally went to the hospital because they were coming quite close together and I was in PAIN! We went to the e-room around 6pm...I called my mother and she came up too. When the nurse checked me she said "You are not in labor, you're only 1-2 centimeters dilated, this can go on for two weeks..rarely anyone has their first baby on their due date." Then they gave me this tiny little pill that hit me instantly and made me feel drunk, I wish I had those the whole pregnancy. I was able to go home and sleep for 30 minutes after that and the contractions came back. I waited and waited because I didn't want another false alarm. At 1AM on the 27Th(mt due date), I couldn't take it anymore. The contractions were killing me...so we went back. The lady came in and checked me and said,"We can not admit you because you are only 3 centimeters dilated." I could not believe this..I knew that baby was coming..and no one would listen! Then, the gave me a shot in my butt which totally stopped everything. The next morning I had an appointment with my regular Dr. . I told her about all the mishaps the day before and so she checked me again. She looked up at me and said "Ashley, I am surprised you are not in labor right now, you are 4 centimeters dilated, I am scheduling an induction in the morning, but I doubt you'll make it through the night." It was a full moon that night, I remember, there were lots of babies that night. Sure enough..this time I knew for sure, I went into full blown labor at 8pm that evening. Went to the hospital and THANK GOD was finally admitted. They gave me my epidural and that took all the pain away and stopped the labor a little. At 8AM the next morning I started feeling some major major pressure. I told my nurse and she said "Good, then lets start pushing." During my pushing I remember the nurse saying,"He has a FULL head of hair." then Trent said, "What color is it?" She said, "IT'S BLACK!" Trent said "That's not my baby". See, the whole time he and I had no doubt that we would have a white haired baby because his hair it still white and mine was white when I was born...but noooo...we had a black headed baby. So, I pushed and pushed for 2 hours and 20 minutes and came out a sweet, perfect, little baby boy.
THE HARDEST THING IVE EVER DONE IN MY LIFE!! He had a HUGE head and a distinct little nose.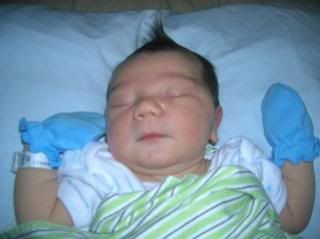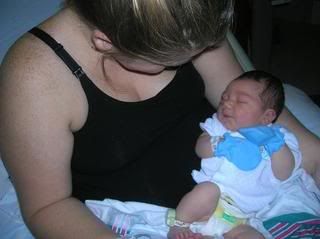 He and I were both running a really high fever. I couldn't talk, or do anything..while they were stitching me they thought that I had fallen asleep, but I was just so beat I couldn't respond to anything.
I had decided to breastfeed...Zak didn't care for that too much. He wouldn't latch so they gave me this nipple guard thingy..he loved it and used it the whole time I breastfed. One time I was trying to feed him and he fell asleep so I laied him down and did his hair for pictures to show future girlfriends.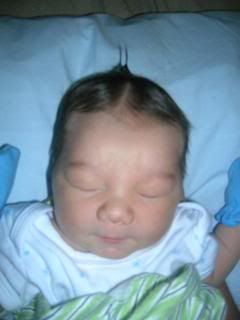 I couldn't believe that we had made something/someone so beautiful. After only being is the hospital 2 days they let us take our new addition home, I couldn't believe that. We were scared to death but I think adapted very well to being new parent, not to mention we had tons of support from friends family.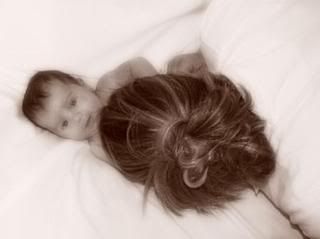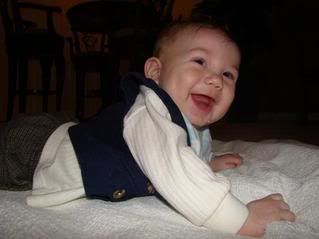 Zakery started to develop really fast. Holding his bottle at 3 months, sitting up at 5, and pulling up at 6months.
In his 8Th month he was pulling up on a table and sure enough busted one of his new teeth out of his head on the bottom. When I took him to the Dr. he said "He will be fine,it will grow back when he's 7years old." WHAT? Now I have a super cute kid with a jacked up grill..Just kidding..I think its character and makes his precious smile even better.
After he started grown up his black hair fell out and came in beautiful golden lucks. Shortly after he turned 1 I gave him his first hair cut!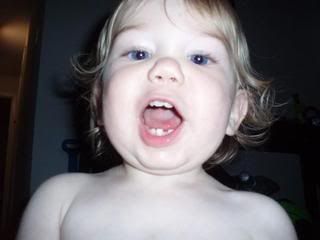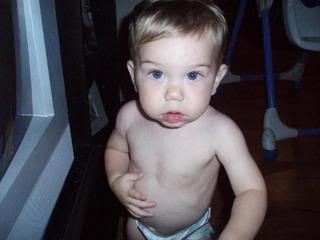 Now he is 14 months old and walking all over the place.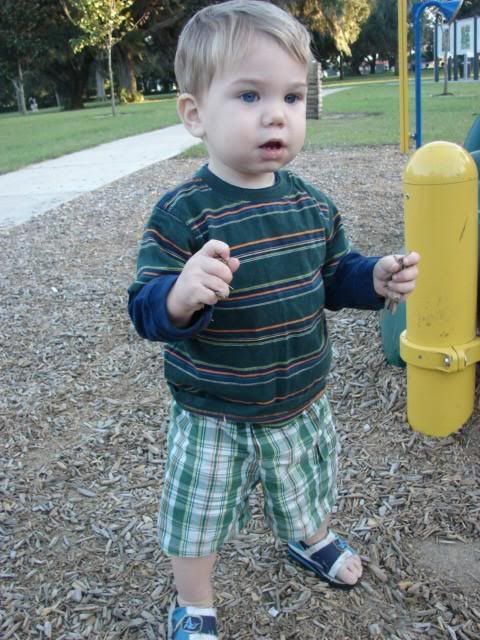 He is constantly getting hurt but usually bounces back quickly. He says all kinds of words such as Momma, Dadda, Cat, Kitty cat, stick, ball(his and his daddy's favorite), I see you, I get you, and my LEAST favorite is that is shakes his head no...I didn't know they learn that at such a young age.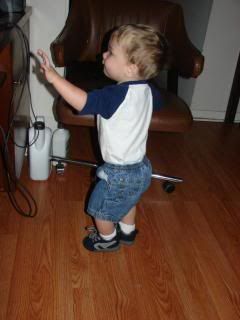 He is my little blessing from God. If asked if I will ever have another one now, I say, If he is anything like my little Zakery, I certainly will. Here we are now!